The artist's chance encounter with a document in an attic opened a window onto a previously unexplored history; an account of one night in 1989 when two men, Goran Sergej Pristaš and Ritsaert ten Cate, met. They spent the evening drinking jenever, watching twenty VHS videotapes.
This memory, committed to paper and then forgotten for decades, ultimately led to the creation of a site-specific installation and a physical document of what may, or may not be the truth.
Jimmy Grima discovered the account while studying at DASArts in Amsterdam. It revealed the videotapes belonged to Ritsaert ten Cate, founder of the influential Mickery Theatre (1965-1991), and later, DASArts. The content and location of the tapes were a mystery, but the record of their existence offered an opportunity for Grima to begin an exploration into the intertwining of site, community, knowledge and memory. How do you document and archive theatre, or the performing arts? Who gets to tell the story? And does any one individual hold the keys to what really happened?
"…The Mickery wasn't a new institution, but it remained the phantom of the new. Ritsaert ten Cate with a bottle of jenever and a bunch of video tapes that we watched until early morning – the short history of the avant-garde theatre in 20 VHS tapes…" Frakcija: Curating Performing Arts (2010), p34 in the chapter 'Looking Backwards' by Goran Sergej Pristaš.
In the hope of finding these 20 VHS videotapes, Jimmy continued to sift through the unofficial, unsorted attic archive. Instead, he discovered the threads and fragments of an untold story swirling around the Mickery Theatre and the Amsterdam art scene of the past. Choosing to reimagine the collection via the testimonies of those who had lived it, an artwork developed. Through a series of conversations and interviews with both major and minor players of this lost time, Jimmy started to fill in the blanks of the archive; throwing light on the shadows, and collecting previously undocumented personal narratives, memories, objects and connections. The unauthorised and forbidden tales took their places at the table for the first time.
Would I have rather never opened these boxes? Were they destined to rest, long forgotten in the DAS attic as humidity gradually erased their contents?
Am I evoking ghosts?
Oh Yes. I am evoking ghosts.
And I am very delighted with their presence.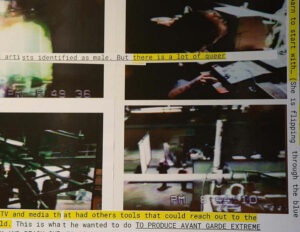 PUBLICATION
(72 PAGES, 10.5 X 18.5 CM)
EDITED BY ISOBEL DRYBURGH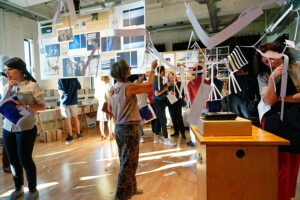 Research Space
Multimedia Installation